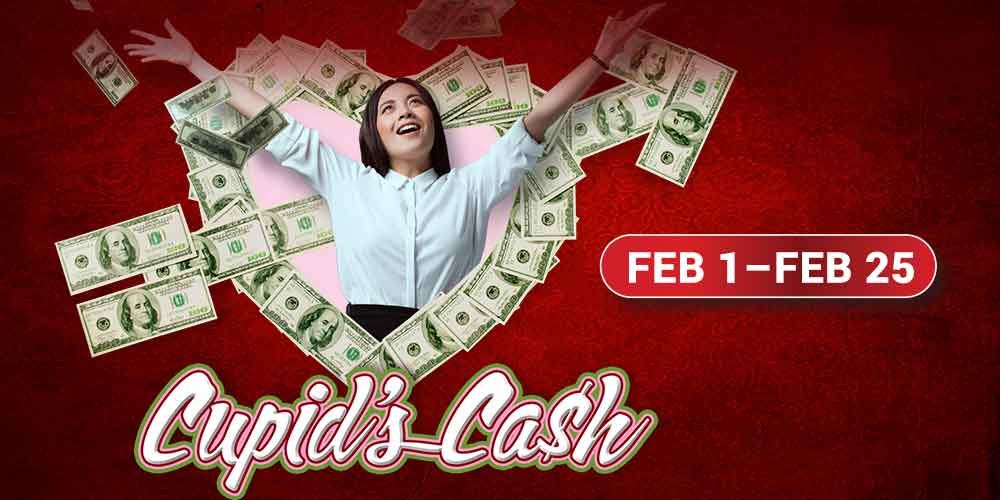 His quiver is full and his aim is true. With an eye for lovers of money, will he take aim on you? It's your chance to cuddle up with some cash–all month long!
Weekly Cash Drawings
Wednesdays from February 1 – 22, 2023
Drawings from 7pm – 10pm
Win from $500 to $5,000 starting at 7pm!
Grand Prize Drawing
Saturday, February 25, 2023
Drawings from 2pm – 9pm
Win your share of $45,000 in Cash Prizes!
2:00 – 8:30pm: 40 winners of $500 to $2,000 every 10 minutes
9:00pm: 1 Winner of $20,000 Grand Prize
$5,000 Grand Drawing Hot Seats: win from $500 to $2,000 every 15 minutes starting at 9:30pm
Please visit the kiosk for your Bonus Tickets on Wednesdays from 10:30am – 6:45pm
Earn entries January 29 – February 25, 2023
$500 cash winners may only win. $500 Cash once on Grand Drawing day. All guests, including $500 cash winners, are eligible for the Grand Drawing $20,000 Cash Prize. For complete details, please visit the Players Club. Must be 18 years or older to enter casino. Management reserves all rights to modify or cancel this promotion at any time.